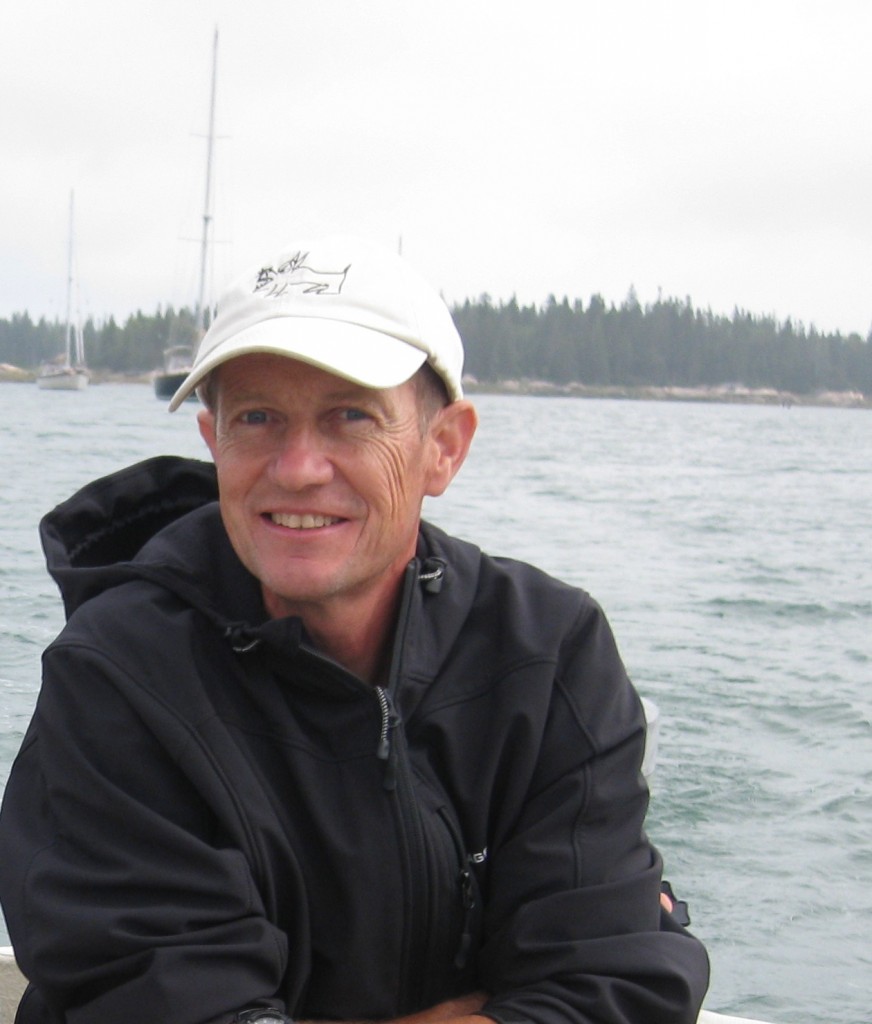 Born into a Navy family, I have  always been in and around the water.  After my father introduced a tiller to me at the age of one I was hooked, though I have never acquired a lust for sandpaper.  I learned to race dinghies against the treacherous French sailors of the Brittany Coast in Optimist, Yole, Finn, 420, 445, and 470 classes.  In high school I competed in Tasar class dinghies with the Holderness School Sailing Team, Plymouth NH and learned the nuances of lake sailing.  From there I began to be able to explore blue-water sailing from Maine to points South, as the opportunities came.  In the 1982 Newport Bermuda Race I was able to sail on Moonfleet, Concordia 39 with owner Queenie Hooper.  We left on the tail of a hurricane and it was one of the best and wildest rides I've ever had.  There have been memorable cruises on Katrinka, Bill Tripp, Sr. 48′ that my family owned for 25 years, but none that compared to that first night out of Newport in 25′ seas.
I began rigging by default…"You…the skinny one…you're a sailor.  Step this mast!".  Since then it has been a slippery slope.   I finally (after burning out on a side-track in the music business) got in over my head in 1990 at J. Hamilton Yachts, Annapolis, MD.  My cousin Colin Crozier was desperate for warm bodies to sweep the dust while he crafted carbon-fiber Ultimate 30′ hulls, Chattanooga Chew and Maryland Flyer.  After seeing that I was not going to be a confirmed lamination guru, he sent me over to Cypress Marine to fill in as rigger/ boat lackey, for Allen Flinchcomb.
Following another bout of music business insanity I ended up working at Bay Riggers in Sausalito, CA. where Patrick Adams taught me to be careful when re-rigging a mast while still stepped in the boat.  It was a fast learning curve when dealing with the surge in San Francisco Bay.  From there I landed back in Maine.  Phin Sprague of Portland Yacht Services found space for me and I opened and ran the rig shop for 5 years.  With a growing family and housing  going at a premium, I moved to Lyman-Morse Boatbuilding in Thomaston and supervised the rig shop from 2001 to 2011.  Cabot Lyman and JB Turner built some very beautiful and  technically challenging boats while I was there.  One of my favorites was Baraka, Reichel-Pugh 62′.  I was able to enjoy some of the most exciting sailing at 18 kts. headed for Bermuda and St Marten, and some becalmed times from  the Cannaries to the Cape Verde Is.
In April of 2011 it was time to pursue a nagging dream to try my hand at running my own business.  Weymouth Yacht Rigging was incorporated and it has been both challenging and exciting since.  Thanks to the support of good friends and great customers business is good!
Rockland, Maine  I  207.975.1405  I  loric@weymouthyachtrigging.com